Superior Builders
Small Company Big Service
We Live Where We Work!
Call Us: 519-494-9904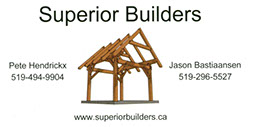 Exterior Projects
We specialize in building exterior projects from entire houses to garages and sheds and framing.
Indulge yourself with new windows. Maybe circumstances dictate that you need a new roof, soffit or facia. Did that storm take out your evestroughing? Let us fix that for you.
No project is too big or too small. We can efficiently handle all of your construction needs. Our company has expertise in kitchen and bathroom remodeling, residential additions and commercial constructions. We have renovation experience in grocery stores and other commercial remodels.
Garage Additions
Adding or remodeling a garage offers a number of benefits for homeowners. In addition to the obvious benefit of having a safe, dry spot to store cars, bikes, and lawnmowers, garages provide a great storage option for items that are currently taking up valuable space in your home like tools and gardening supplies. A newly remodeled garage can also be a useful location for a home office, gym or workshop.
Get a Free Estimate of Our Interior Remodeling Services
From bedrooms to garages and everything in between, Superior Builders is your trusted source for room additions in the Grand Bend Area. Contact us today for a free consultation and estimate on our residential remodeling services.